Monday December 16 2019, 2:00 PM
@ Twitter at #CommCatalyst
Hi friends!
Excited to share an event just announced by the organization sponsoring work me and a team of other abcd faculty have had the great pleasure to support over the last two years (and is still ongoing) with libraries and museums learning and doing ABCD work across the US.
Date Time: 
December 16, 2019 2:00 PM ET to 3:00 PM ET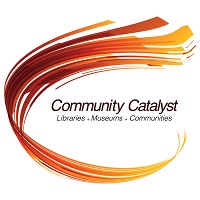 Join the Institute of Museum and Library Services, IMLS Director Dr. Kathryn K. Matthew, and special guests to talk about the collaborative approach that's been transforming the work of museums and libraries in communities across the country. Asset-based community development (ABCD) asks people and organizations to view problem solving in their community though an "asset" lens, rather than a deficit. It's a strategy for community-led development that relies on local residents, nonprofits, and governments to create conditions for broad ownership for positive change.
Learn from other organization's successes and gain valuable tools you can use in your own community, such as logic models, journey maps, and power ladders. Whether you're new to community work or you've been grounding your work in this type of theory of change (PDF) for years, we welcome you to join the conversation. Let's explore together how we can achieve community transformation by combining our efforts.
Join us on Monday, December 16 from 2:00-3:00 pm ET on Twitter using #CommCatalyst. For more information, visit the Community Catalyst Initiative web page, or contact Dr. Marvin Carr at mcarr@imls.gov.
About the Community Catalyst Initiative
IMLS's flagship initiative, founded in 2017, draws on the unique relationships, knowledge, networks, and spaces of museums and libraries to encourage meaningful collaborations with local non-profit and community development organizations, community associations, and individual community members. You can view IMLS awarded grants under this initiative here. For more information, please visit imls.gov/cci.
Original Posting here: https://www.imls.gov/events/twitter-chat-how-spark-change-asset-based-community-development
Tags
About April Doner
State or Province:
country:
US

what are your gifts and talents?:
why do you want to join abcd in action?: